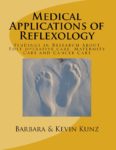 Consider the researched and proven potential of reflexology:
Reflexology has been found to be effective during research conducted through hundreds of studies positively impacting:
relaxation,
pain reduction,
recovery from surgery,
easier pregnancy,
symptoms of physical and mental health concerns,
post-operative recovery,
cancer care,
medical care and how the body works.
Relaxation
From the moment the reflexologist's hands start their work, the relaxation begins as found by research measuring brain activity by EEG. All together, 24 studies demonstrate reflexology's relaxation effects.Multiple studies using a variety of measurements show that reflexology relaxes the body. The stimulation of reflexology's pressure techniques creates change in the body's basic level of tension as demonstrated by research using measurement of: brain waves (EEG), blood pressure, systolic blood pressure, diastolic blood pressure, pulse rate, and anxiety. One study of a single session noted that reflexology has a "… powerful anxiety-reduction effect …."
Pain reduction
Pain reduction is a significant result of reflexology work. Twenty-seven studies show positive outcomes for reflexology work ranging from "significant difference in" pain to "reduction in" pain.Of note is the broad range of individuals whose pain is impacted by reflexology work. Included are individuals of all ages and health states: birthing mothers, menstruating women, phantom limb pain sufferers, lower back pain sufferers, kidney stone patients, senior citizens and individuals with pain resulting from surgery. Such a range speaks of impact on an underlying mechanism at work.
Improved symptoms for health concerns
Reflexology was found to be effective for 93% of health concerns in one analysis of 8,096 case studies with 63 concerns and another analysis of 168 studies with 78 concerns. Concerns ranged from allergies and aggressive behavior in children to vertigo and uroshesis (urinating after surgery).
Improved post-operative recovery and pain reduction
The value of reflexology for patients post-surgically is demonstrated by fifteen studies conducted in eight countries. As reported in Medical Applications of Reflexology: Findings in Research about Post-operative Care, Maternity Care and Cancer Care (Kunz and Kunz, 2011), patient pain, anxiety and recovery are all aided by the application of reflexology post-operatively. Researchers note the value of reflexology post surgically: speeding recovery time; adding to nursing interventions to ease pain when medication alone is not enough as well.
Complement to cancer care (pain, nausea, vomiting, anxiety)
Results from 24 studies conducted by nurses in ten countries are reported in Medical Applications of Reflexology: Findings in Research about Cancer Care (Kunz, Barbara and Kevin, RRP Press,2011). The results show that reflexology helps cancer patients improve the physical and emotional symptoms of the cancer experience. From chemotherapy to symptom management and from postoperative
Easier pregnancy, delivery and postpartum recovery
Women who received reflexology experienced shorter labor times and used less analgesia. In addition, reflexology showed a positive impact on postpartum depression, anxiety, urination and bowel movements. Reflexology work during pregnancy or delivery creates easier birthing / delivery: lessened use of analgesia; reduced duration of labor and labor pains, improvement in primary inertia and retention of placenta. Chinese researchers have found reflexology to be beneficial for women throughout the child- bearing experience from conception to post-partum concerns.
Enhancement of medical care (e. g. diabetes, phantom limb pain, and hemodialysis patients)
For cancer patients, phantom limb pain sufferers, hemodialysis patients, diabetic individuals, neuropathy patients, and many more categories of patients are among those whose need for help exceeds that available through medical practices. Research has demonstrated that reflexology use enhances medical care to help where medicine can't, for example, lessening or cessation of pain for those with phantom limb pain.
Adjunct to mental health care (e. g. depression, anxiety, post traumatic stress disorder)
Reflexology programs and research show that reflexology aids the mentally ill, providing needed benefits unique to reflexology work. Mental health workers report that reflexology work furnishes many advantages including facilitating communication and allowing for the client to be "touched during treatment in a safe non-intrusive / abusive manner." Studies demonstrate from reflexology work proves to be useful or provides positive results for: aggressive and anti-social children, autistic children; those needing emotional support; individuals with post traumatic stress syndrome; individuals with severe and enduring metal illnesses. Research demonstrates that reflexology can reduce depression (11 studies) and anxiety (9 studies).
Improvement in how the body works (e. g. blood flow, blood pressure, kidney function and cholesterol
Improvement in blood flow is one of multiple mechanisms of action at work in reflexology technique application. Research shows that reflexology work applied to a reflex area reflecting a body part prompts an improved blood flow to that body part: kidneys, intestines, and the brain (fMRI). Research also shows improved blood flow to the feet.
Research shows that reflexology work influences physiological measures of the body. Measures include and demonstrate positive impact on: alpha amylase, blood pressure, systolic blood pressure, pulse rate, blood uric acid level, carbon dioxide (exhaled), cholesterol, cortisol, Doppler sonogram, ECG, EEG, fMRI, free radicals, hemoglobin, oxygen density, oxygen saturation, serotonin, triglycerides, uric acid and white blood cell count as well as immune system, intestinal, kidney and pancreas function. Such measures document that reflexology has an effect, providing an objective yardstick to measure reflexology's effects and offering evidence of reflexology's potential benefits.